Orange Pop: Chris Cruz Steps Out on the Softer Side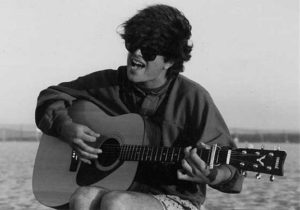 February 28, 2008
For more than a decade Chris Cruz has played bass in Orange County-based Doom Kounty Electric Chair, a hard rocking band headed by his brother, singer-guitarist Jose Cruz.
So it may come as a surprise that Chris Cruz has not only stepped out from the shadow of that alternative rock band to his release his first-ever solo CD, but that In My Heart is at the opposite end of the sonic universe; the 11-song disc is a beautiful and sparse acoustic album filled with material sure to please fans of heartfelt folk music.
I was ground up with Doom Kounty, Chris Cruz admitted in an interview at a coffee shop near his Anaheim home earlier this week. We started in 1995 and put our first record out in 1997. I was just ground up by the music business.
So when Curt Sautter, a producer who runs Upland-based Delirium Records, offered to demo some of his songs in 2006, Cruz decided that the timing seemed right.
Curt and I get along great, Cruz said.   He has a punk rock ethic and great ears.
Despite the seemingly simple process of recording an album built around straightforward acoustic material, In My Heart" took more than a year to complete. Cruz would first record demos of the material at his home and then drive to Delirium Records almost every Saturday to record final sessions with Sautter.
He acknowledged that during the extended period, he also did a good deal of listening to other acoustic recordings to see how many of his favorite artists were able to create magic.
I listened to a lot of old (Bob) Dylan, Woody Guthrie. I also got into (Bruce Springsteen's) Nebraska and Michael Ubaldini's Acoustic Rumble. I wanted to do an acoustic record, so I thought I'd listen to everything acoustic and start from there.
Curt has instilled in me: it's about emotion.
In My Heart sparkles. Although there is a simplicity to the recordings, the melodies and Cruz's affecting delivery of the songs shine across the CD. Echoes of the Beatles, Buddy Holly, Tom Petty and Roy Orbison come to mind listening to gems such as Im In Love With a Girl, When You Look at Me, Blame it on Love and The Other Side.
Although Cruz has been playing music for most of his life, In My Heart might seem at odds with the majority of his time making music. He sang in a church choir during elementary and junior high school, and played trumpet in the jazz, concert and marching bands at Cerritos High School.
While at Cal State Long Beach, Cruz picked up guitar and began playing and writing songs, going on to form Arbitrage with fellow Cerritos High School alumni Marc Ford (best known for his subsequent stints in Burning Tree and the Black Crowes) and Jim Ashhurst (Broken Homes, Buckcherry).
After the demise of that band, Cruz taught himself bass and joined his brother's band.
In addition to his burgeoning solo acoustic career, Cruz recently joined power pop band the Relatives. His strong skills as a songwriter and singer should prove to be an asset to that group on stage and in the studio. The band will open for Stan Ridgway at the Coach House on March 14.
But Cruz acknowledged that he is very serious about touring and promoting his solo project.
Around October 2006, I entertained the idea to do two records. I'd come into the studio. Some songs were political, and some songs sappy love songs. We thought, Why don't we record two records?
So while In My Heart will see its official release in March, an album of political-minded material will be issued later in July or August.
People have said I'm punk rock with this record because of the quirkiness of the arrangements, Cruz explained.  I'm going with the theory that it's tough to screw up a good song, Cruz said.