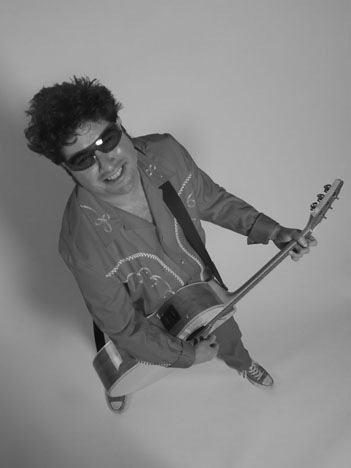 Short BIO
CHRIS CRUZ is a lifelong Southern Californian who got his start performing music in in the Grade School Choir.  In Junior High he added Trumpet and was a member of Long Beach State's famed BIG BROWN MUSIC MACHINE and Chamber Choir.  While in college, Chris borrowed his brother's guitar and almost immediately starting writing songs.
After college, Cruz started the band ARBITRAGE. The Other Side, Chris's first original tune received critical acclaim and radio airplay. ARBITRAGE performed locally, but constant lineup changes forced the songwriter to change direction.
From 1995-2002, Chris joined forces with brother Jose to Produce DOOM KOUNTY ELECTRIC CHAIR joining the group on Bass and releasing 2 Full Lengths, an EP and 7″ on Persuasion Records.
In 2006, Chris Cruz was signed to Delirium Records resulting in the 2008 releases IN MY HEART(the Love Record) and ON MY MIND(the Folk record).  After performing showcases and opening slots for BJ Thomas, Judy Collins, Country Joe, Smithereens and more, Cruz realized he needed to play covers to pay the mortgage.  The Pacific Coast Crooner has performed from the OC to the Canadian border at Dive Bars, Wine Bars, Restaurants, Clubs & Sandwich shops playing and singing while hosting Open Mics & Karaoke.  In 2016 Persuasion Records released the cover heavy full length I WANT YOU.
2020
When the lockdown of 2020 began, Chris Cruz found himself sitting on a couple un-released recordings ROSARY BEATS(Original Country & Folk Rock 6 song EP) and SENTIMENTAL DREAMS(Acoustic Folk featuring vocalist Rae Shirer).  While ROSARY BEATS presents Chris's edgier Original Folk Rock, SENTIMENTAL DREAMS is meant to be representative of the cover gigs with Rae Shirer where they perform nice songs for nice people.
I LIKE THE RED I LIKE THE BLUE, the first Single from ROSARY BEATS remains Cruz's most popular tune and received the longest review of his career from the OC Weekly's Nate Jackson who said "In an era where America's greatest pastime has shifted to launching flame wars on Facebook, it's nice to hear a song that takes a stance that can bring people together.  The hook in that tune is "I Like the Dodgers and the Angels too" and was written after a gig at Angelo's Burgers in Anaheim where the Dodgers fans occupied one side of the patio with the Angel fans on the other during a game broadcast.
Watch the Official Video for I LIKE THE RED I LIKE THE BLUE
https://www.youtube.com/watch?v=WDvuj9EkhHo
The second Single from ROSARY BEATS is an ode to President George W. Bush and his September 17,  2001 request for "justice and the capture of Osama Bin Laden DEAD OR ALIVE" In an OC Weekly feature on the song, Steve Donofrio stated, "Cruz's voice is simultaneously inquisitive, desperate, melancholic and angry."
Set for release Oct. 9, 2020 ROSARY BEATS features performances by Quinton Banjo Fults, Tom Bremer, Jeremy Long, Matt Froehlich, Alice Wallace & Rae Shirer featuring 5 Original tunes and a cover of Woody Guthrie's THIS LAND IS YOUR LAND recorded by Bobbo Byrnes.  Custom CD Artwork was penned by Fullerton Artist & friend Janice D. Monaco.
In the spring of 2019 Chris Cruz & Rae Shirer were booked to open for one of their inspirations Don McLean at the Coach House Theatre in San Juan Capistrano.  They'd been working together since 2015 and honed their craft while performing weekly Sunday's at Berth 55 on the Long Beach waterfront. With that October show expected to be a sell-out, Cruz set out to make a recording representative of the Duo's live shows and something American Pie fans would enjoy and purchase.  Chris on Acoustic Guitar & Vocal with Rae's Duet & Backing Vocal recorded at Chris's home studio on a Tascam 8 Track Porta Studio with minimal overdubs, no effects and no autotune.  The result is SENTIMENTAL DREAMS, a fun Campfire Sing-along featuring 3 Originals LIE, SENTIMENTAL DREAM COME TRUE & NOT YOUR KIND OF MAN(Johnny & June Style Duet) and 3 Classic Covers  TAKE ME HOME COUNTRY ROADS, CATHY'S CLOWN and PEACEFUL EASY FEELING.  Rock and Roll Truth's Robert Kinsler says SENTIMENTAL DREAMS "is an uplifting and joyful listen that taps into the warmest of Americana and folk traditions…especially ambitious is their own LIE with bold harmonies that help propel the epic track on its enticing run."
2016
It was a wonderful journey to get to the release of I WANT YOU. Coming off an Indie Record Deal with Delirium Records and the releases of IN MY HEART and ON MY MIND in 2008, you wouldn't expect it to take 8 years to follow up.  While proud of the songwriting and timeliness of the dual releases, the reality was making a living playing music meant performing covers around Southern California.  Chris dove deep into covers of all genres and eras while leaning on the happier Pre-Viet Nam era tunes of the Everly Brothers and crooners like his Mom's favorite Bobby Vinton.  What started as a chance to have band mate Rob Klonel(Doom Kounty Electric Chair, Mystery Train) produce and arrange original songs turned into recording sessions of some standards as well as some not so famous CC Live Show Favorites.  In addition to originals SENTIMEMENTAL DREAM(Electric Version), IT WON'T BE LONG and THE LAST GOODBYE Title track Bob Dylan's I WANT YOU, Mamas & the Pappas CALIFORNIA DREAMIN', Carole King's WILL YOU STILL LOVE ME TOMORROW?, Everly Brothers CATHY'S CLOWN, Arlo Guthrie's COMING INTO LOS ANGELES, Mike Ness(Social Distortion) CHEATING AT SOLITAIRE, Alejandro Escovedo's LAST TO KNOW, and OC Rock mates the Relatives' OVERBLOWN round out the recording.
The core band for the recordings was Rob Klonel(Drums), Kevin Darish(Guitars) and Jason Arthur(Bass), Chris enlisted cameos from Sal Lozano(Saxophone track 7 & 10) and Pooch DiPuccio(Slide Guitar track 11).  Some of Chris's first live paying gigs were in Downtown Fullerton at Table 10(now Joe's) and playing in the Terry Alexander Group. TAG Bassist, the late John West plays on the title track and COMING INTO LOS ANGLES while Terry Alexander adds Piano and Guitar on CATHY'S CLOWN. Recorded, Mixed & Mastered at Adamos Huntington Beach by Jerry Adamowicz.  Photos/Art by Michael Magoski, Violet Hour, Fullerton.
Early Years to 2009
Chris got his start in music while attending Long Beach public school singing in the choir and later joining the band on Trumpet at Stephens Jr. High.  When the family moved to Cerritos, he went on to lead the Marching Band as Drum Major at Cerritos High, played Trumpet in the LB Junior Concert Band and enrolled at Long Beach State as a Music Major.  When Chris borrowed his younger brother's Gibson SG, he almost immediately began writing songs.  I realized bands like Led Zeppelin were not playing music off a page…and the rock musicians I was coming into contact with didn't read music, Chris explains.  He switched his major to Business Finance and upon graduation started his first Rock band ARBITRAGE and released a 7″ The Other Side featuring Marc Ford and Cassette EP on his label Persuasion Records. 
Hired by OC Music One-Stop Abbey Road Distributors, Chris got a good look at the inner workings of the music business during the Compact Disc revolution.  He was able to travel internationally and was exposed to many different styles of music and their promotion as a product.  The stability of that gig led to production of the band DOOM KOUNTY ELECTRIC CHAIR.   Chris was the Executive Producer and did everything from Guitar Tech to eventually playing Bass.  It was a great learning experience recording DKEC for 18 months with Grammy Nominated producers Bruce Witkin and Ryan Dorn(White Buffalo/Sweeney Todd/Ugly Kid Joe).  Persuasion Records released DKEC's Stealing Defeat From the Jaws of Victory, Homicide EP & 7″, and Cuban Healed Killers.  Highlights from the Doom Kounty experience were opening for the Cramps, being banned from Linda's Doll Hut, and having Stealing Defeat… picked as a top release for 1998 by the LA Times Mike Boehm.
Following a last minute opening Solo set for the RELATIVES Dirty Little Secrets release party, Delirium label owner Curt Sautter asked if Chris had more originals and the conversation began that would lead to a 2 CD Recording Contract on the Upland based Indie Label.  In My Heart (the love record) and On My Mind (the folk record) were released in 2008 on Delirium.  I knew I didn't want to be the label.  I just wanted to concentrate on playing and singing well Chris shares.
INQUIRIES: ccruzrock@roadrunner.com
www.chriscruz.net