Chris Cruz in ARBITRAGE-DARK CLOUDS
Digital Single Release Aug. 12, 2021
1986 Original Recording Digitally Remastered
Persuasion Records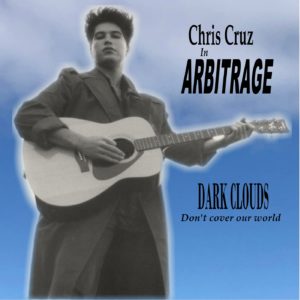 Dark Clouds marked the second incarnation of Arbitrage following Lead Guitarist Marc Ford and Drummer Doni Gray's Burning Tree signing with Epic Records.  Produced and recorded by the late Chaz Ramirez(Berlin, Stryper, Social D) at the Casbah in Fullerton, the recordings included Steve Severe on Bass, Mike Petrus on Drums with Charlie Amrick on Lead.  Songs LETTERS and HOLD ON were also recording during these sessions and released on Cassette in 1989 and with previous recordings WHY and THE OTHERSIDE.
Streaming/Buy on BANDCAMP
https://chriscruz.bandcamp.com/track/dark-clouds-digital-single
Streaming on Youtube
https://www.youtube.com/watch?v=0v51jYWVjrw