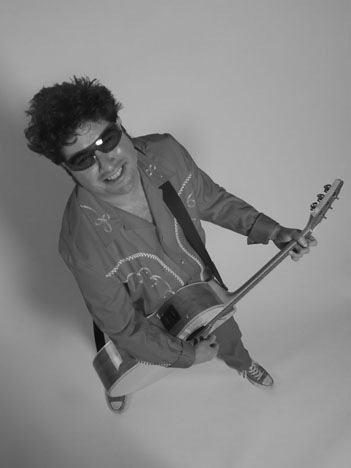 Chris got his start in music while attending Long Beach public school singing in the choir and later joining the band on Trumpet at Stephens Jr. High.  When the family moved to Cerritos, he went on to lead the Marching Band as Drum Major at Cerritos High, played Trumpet in the LB Junior Concert Band and enrolled at Long Beach State as a Music Major.  When Chris borrowed his younger brother's Gibson SG, he almost immediately began writing songs. "I realized bands like Led Zeppelin were not playing music off a page…and the rock musicians I was coming into contact with didn't read music," Chris explains.  He switched his major to Business Finance and upon graduation started his first Rock band ARBITRAGE and released a 7" "The Other Side" featuring Marc Ford and Cassette EP on his label Persuasion Records.  
Hired by OC Music One-Stop Abbey Road Distributors, Chris got a good look at the inner workings of the music business during the Compact Disc revolution.  He was able to travel internationally and was exposed to many different styles of music and their promotion as a product.  The stability of that gig led to production of the band DOOM KOUNTY ELECTRIC CHAIR.  Chris was the Executive Producer and did everything from Guitar Tech to eventually playing Bass.  "It was a great learning experience recording DKEC for 18 months with Grammy Nominated producers Bruce Witkin and Ryan Dorn" (White Buffalo/Sweeney Todd).  Persuasion Records released DKEC's Stealing Defeat From the Jaws of Victory, Homicide EP & 7", and Cuban Healed Killers.  Highlights from the Doom Kounty experience were opening for the Cramps, being banned from Linda's Doll Hut, and having "Stealing Defeat" picked as a top release for 1998 by the LA Times Mike Boehm.
Following a last minute opening Solo set for the RELATIVES Dirty Little Secrets release party, Delirium label owner Curt Sautter asked if Chris had more originals and the conversation began that would lead to a 2 CD Recording Contract on the Upland based Indie Label.  In My Heart (the love record) and On My Mind (the folk record) were released in 2008 on Delirium. "I knew I didn't want to be the label.  I just wanted to concentrate on playing and singing well" Chris shares.
INQUIRIES: ccruzrock@roadrunner.com
www.chriscruz.net