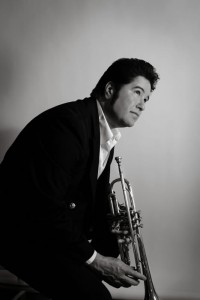 As the young son of an enlisted man during the Vietnam era, raised in the West Long Beach Navy Housing, Chris found friendship and comfort in the sounds emanating from his mothers small FM radio. The sound of the early 70's would later emerge in Chris's own music. Spending summers with his Johnny Cash obsessed grandfather and Sundays with St. Anthony's Church folk combo cemented Chris's passion for music of all kinds.
Chris joined the school choir in 4th grade and remained a member of the choir through elementary and middle schools. While at Stevens Jr. High in Long Beach, Chris borrowed a trumpet from a friend and began taking band classes. A horn of his own seemed like an impossibility. But after some scrimping, saving and more than a couple family arguments, Chris's mother was able to purchase a $150 trumpet.
When the family moved to Cerritos, Chris joined the high school concert and marching bands. While in high school, Chris discovered the powerful music of Tom Petty and the Clash, two more important influences.
While attending Califoria State University at Long Beach, Chris continued playimg trumpet in the marching and pep bands. But he also started playing guitar, writing songs and jamming with his younger brother, Jose. Chris formed his first band ARBITRAGE with fellow Cerritos High students, Marc Ford (Burning Tree, Black Crowes) and Jim Ashhurst (Broken Homes, Buckcherry), and recorded one EP.
Working in the records distribution business to pay off student loans, Chris learned about the uglier side of the music business. He eventually formed his own label to issue his own records, but  ended up joining his brother Jose's raw rock band, "Doom Kounty Electric Chair", and releasing efforts on the label, "Persuasion Records".
In 2006, producer and indie label owner Curt Sautter offered to produce Chris's original music. This led to two full-length CD's released in 2008: "In My Heart" and "On My Mind" — one of love and lament songs and the other filled with more socially relevant songs. Chris was asked to join another one of Sautter's artists, The Relatives. Unfortunately, Chris's busy solo touring schedule made it impossible for him to remain with The Relatives. However, you will still find them playing together when they have an opportunity.
With the release of his album of original tunes and classic covers, "I Want You", Chris returns to the music of his youth and FM glory days of the 70s.