Chris Cruz's Political Song About Baseball Hits Home at Local Bar Near You
SEPTEMBER 5, 2018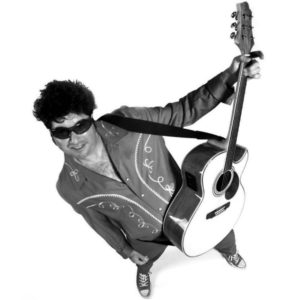 We're never really prepared to hear a new song that makes our lives feel a lot easier, or at least a little less complex. Sometimes it's a tune we hear on the radio, or maybe it's an acoustic jam being strummed at the back of your local bar that sounds like goofy little ditty about baseball. Then again, if you really believe the slogan Baseball is Life, then you should probably put your drink down and listen a little closer while folk singer Chris Cruz is on stage.
The Anaheim troubadour has played and recorded records in OC since the mid aughts. However, there was a point when he realized his knack for lefty, Dylan-esque activism fell on deaf ears in our historically conservative county. That, and I realized I needed to play cover music to get paid, he admits.
But one thing that brings everyone to the table is sports so he figured why not couch one of his protest songs in a baseball metaphor. Hence his first original tune in years, I Like the Red, I Like the Blue was born. As a Cerritos native, Cruz grew up rooting for the Dodgers up until moving to Anaheim when he started sporting Angels jerseys.
Some may denounce the idea of rooting for two rival teams as sacrilege, sometimes looking at the pros and cons of both sides is part of life, just like politics. In an era where America's greatest pastime has shifted to launching flame wars on Facebook, it's nice to hear a song that takes a stance the can bring people together.
Times are just a fashion but the clothes don't seem to hide the demographics engineered to profit and divide, he sings.  But I like the red, I like the blue, I like the Dodgers and the Angels too and the feeling that runs through my veins when I say let's go United States I like the red I like the blue!
See what he did there?
This is my way of saying something without really saying it and kinda injecting a little humor, Cruz says.
It helps that Cruz is a little older and wise enough to see how technology and new breakthroughs can change society in the short term, but nothing ever makes quite as much impact as promised. He was just a budding musician when MTV debuted, working a party at a local Marriott where they first broadcasted it.
I thought it was the greatest thing ever, he remembers. I don't think people remember that when cable first started they said We're gonna make you pay for it but we're not gonna make you sit through any commercials, that was their pitch. Ah yes, those were the days!
But now, he adds, there's commercials all the time. When you get home late sometimes it's nothing but infomercials.
Though he writes solo, I Like the Red, I Like the Blue was a group effort recorded with Bobbo Byrnes of OC folk duo The Fallen Stars with their band's drummer Matt Froehlich on the skins. Banjo is played by 22 year old Quinton Banjo Fults who Cruz discovered at a Michael Ubaldini showcase show after catching him tear it up on songs by Pete Seeger and Woody Guthrie. I was like wow here's this guy showing me how I should be doing things. We get a long good and I got him to play on the record, Cruz says. Fults even plays kazoo on the track.
Though Cruz's first original song in a while has been a hit at the local bars and venues he plays, like Beach Hut Deli where he also hosts an open mic, Cruz is still planning to continue playing more covers too. After all, a musician's still gotta eat. But it helps having a profound little curveball in your back pocket that might knock some sense into people.
I'm glad it's a song everyone seems to relate to no matter what your politics are, Cruz says. I'm grateful for the whole progression of this record and how it came out.